Breast cancer is one of the most curable cancers. However, once metastasize to other organs, we must recognize as non curable and patients have to live with cancer. Therefore, breast screening using mammogram, ultra sound, and palpitation is very important to find in early curable stage of breast cancer.
To give any women "state of the art" breast screening, we have direct style digital mammogram with 5 megabyte monitors and ultra sound. Dr. Hamaoka has experiences not only for breast cancer diagnoses but breast cancer treatment (e. g., systemic chemo-endocrine therapy, molecular targeted treatment, palliative therapy, and surgery) more than 20 years.
We also accept after surgery breast cancer patients for their treatment. We have 2 chemotherapy units with sofa, TV, Blu-ray / DVD player, which makes patients comfortable to have infusion. (The patients who have already started breast cancer treatment at other medical institutes need back up hospital and need to start with "second opinion".)
Our goal is to find any breast cancer at early stage with high quality breast screening that makes breast cancer mortality rate low, and to improve breast cancer patients' life better with high quality breast cancer treatment and comfortable materials.
Tsuyoshi Hamaoka, M. D., Ph. D.
Director of Sakurashinmachi Hamaoka Breast Clinic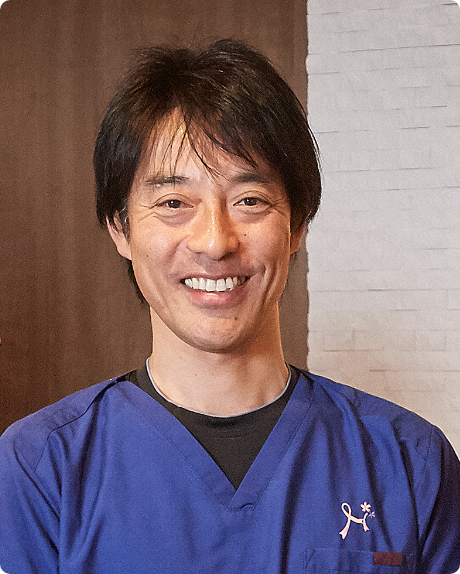 | | |
| --- | --- |
| 2009 | Sakurashinmachi Hamaoka Breast Clinic |
| 2005 | Faculty staff, Department of Breast Center, St. Luke's International Hospital |
| 2002 | Department of Blood and Marrow Transplantation, Breast Medical Oncology, University of Texas M. D. Anderson Cancer Center, Houston, Texas |
| 2000 | Department of Surgery, Hyogo Cancer Center, Hyogo, Japan |
| 1999 | Department of Surgery, Yodogawa Christian Hospital, Osaka, Japan |
| 1998 | Research Trainee, Department of Breast Pathology, Cancer Institute, Tokyo, Japan |
| 1995 | Postgraduate student at Graduate School of Medical Sciences, Kobe University, Department of Surgery I, Kobe, Japan |
| 1992 | Resident, Surgical Fellow, Department of Surgery, Kakogawa Hospital, Hyogo, Japan |
| 1991 | Resident, Department of Surgery I, Hospital of Kobe University School of Medicine, Kobe, Japan |
| | |
| --- | --- |
| 2002: | Board of the Japanese Breast Cancer Society |
| 2000: | Ph. D. Kobe University, Department of Surgery I, Kobe, Japan |
| 1996: | Board of Japan Surgical Society |
| 1991: | Japanese Medical License |
We accept Japanese health insurance, Setagaya-ku breast screening. Mammogram, ultrasound, palpitation and explanation without insurance cost 14,000 yen. For second opinion costs 21,000 yen for 30 minutes.
Once diagnosed as breast cancer, we will discuss the treatment plan and introduce host hospital which can perform CT scan, MRI scan, surgical treatment, and radiation treatment. Because Dr. Hamaoka is also working at St. Luke's international hospital, St. Luke's international hospital is convenient for us to introduce. However, we can introduce your convenient hospital if you need. In terms of chemotherapy, we will be able to give them at our clinic. After primary treatment, such as surgery, radiation, you will be able to visit our clinic to follow up.
HOLOGIC "Dimensions" is filmless high resolution digital mammogram.Female radiation technician lead you to press your breast softly for mammogram. Please remember to have good images for diagnoses, mammogram has some pain to press. Mammogram is good at finding calcified lesion (like a sand in a breast) which sometimes indicates malignant sign.
Despite not good to see calcified lesion, breast ultra sound examination shows your breasts' anatomic information much better than mammogram. Cancer can be found as an irregular shape lump or shadow without pain. We also do abdominal ultra sound to screen you liver, kidney, gall bladder, pancreas, spleen and more.
If you have any suspicious lesions of breast cancer, ultrasound guided FNA will be needed to obtain more information. The result will be classified from class 1 to 5. Class 4 or 5 is higher suspicious of breast cancer. Lesions categorized class 3 or more need to perform needle biopsy.
Needle biopsy with local anesthesia makes possible to obtain much more information than FNA. We have 2 types of needle biopsy, Vacuum assisted breast biopsy (VAB) and core needle biopsy (CNB).
We can analyze your bone mineral density (BMD). Because Aromatase inhibitor (hormonal tablets) may reduce BMD, it is very important to monitor BMD. To diagnose osteoporosis, BMD assessment is also suitable.
To screen or monitor lung metastasis after surgery, or check heart failure by chemotherapy, we can take chest-X-ray. It can also use to check common cold or pneumonia.
We do conventional screening blood test. It includes blood counts, liver function, renal function, blood sugar, tumor markers, and more.
You may relax and receive treatment lying down on flat sofa.
We provide conventional chemotherapy. We cover most of standerd regimens, covered by Japanese insurance. Some chemotherapy has side effects. We will do our best to reduce those.
It is not cytotoxic agent but is the latest treatment to attack cancer directly with fewer side effects.
We use bone modulation agent, i.e. Denosumab, Zoledronic acid, which reduces bone pain, prevents bone fracture.We also give oral bisphosphonate for the treatment of osteoporosis.
We give hormonal therapy mainly post surgery. Those treatments have less side effects comparing to chemotherapy however need to take 5 to 10 years. Oral medicine: Tamoxifen, Aromatase inhibitors Monthly or tri-monthly injection: LH-RH analog (Leuplin,Zoladex)
We accept second opinion for who has already diagnosed as breast cancer to discuss patients' cancer condition, treatment plan, and prognosis.